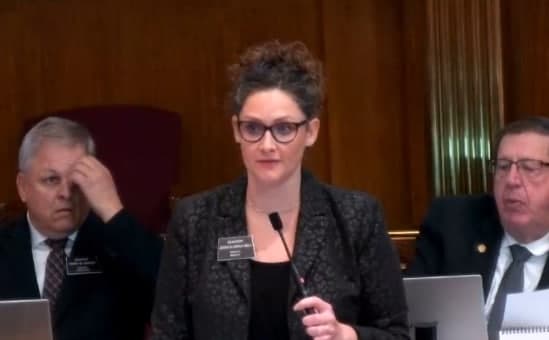 Yesterday, on a vote of 30-17, the North Dakota Senate did something many of us once thought near impossible— they passed a bill prohibiting the state from implementing mask mandates. In my opinion, House Bill 1323 — which has gained national attention — illustrates the possibilities when a well-organized grassroots movement gets behind something.
Not everyone is happy about its passage though. For example, a certain political blogger — who fancies himself as "North Dakota's Most Popular and Influential" — is fuming over the issue. In fact, he called the bill "cloyingly stupid" and supporters of it a "noisy minority". He's calling on Governor Doug Burgum to veto it if it hits his desk. His tirade reminded me of the following YouTube video:
Yet, the aforementioned blogger isn't the only one airing his grievances in the aftermath of yesterday's vote. A number of proponents of the original bill aren't happy either. Yes, you read that right— there's supporters who are pretty ticked off. And, in fact, some of them have taken to social media to say as much.
What's the problem? The bill got amended on the Senate floor.
This wasn't exactly a surprise. In fact, Rep. Jeff Hoverson (R – District 3) — who is also the bill's primary sponsor — told supporters at a rally the day before that this was likely to happen.
What did the amendment do? It's pretty simple actually. In the original language, the prohibition on mask mandates would have applied to state and local governments both. But Senator Jessica Bell (R – District 33) — formerly Jessica Unruh — proposed a floor amendment that stripped out the local part of it. And it was adopted.
With this change, the Senate's version of HB 1323 means that if the bill becomes law in its current form, it will only restrict a "statewide elected official or the state health officer" from mandating the use of "a face mask, face shield, or other face covering." In other words, local governments (including school boards) can do so in the name of "local control".
That's not all though. There could be other implications that go with the amendment. For example, could state and local department heads require masks of those who work in or enter their offices? I see nothing prohibiting it.
Yet, in spite of these apparent realities, I'd argue that even the current bill is still better than nothing. Think of it. Not all communities in our state are led by people who support mandates. What does an all or nothing mentality do for them? Especially when a refusal to amend the bill would have got them nothing and left them subject to future state-wide mandates.
Without the amendment to HB 1323, it was dead in the water. And legislators who supported the bill knew it. That's why you didn't hear any opposition to the amendment on the floor.
Believe me, I understand if there's some disappointment from supporters of the original legislation. But I don't think the perceived outrage from some of them is necessary. After all, if HB 1323 becomes law, no one can issue a state-wide mask mandate anymore. If you're anti-mandate, that should be a win— even if it's not everything you wanted in the first place.
At this point, time would be better spent getting this thing through the House again and onto Governor Doug Burgum's desk for his signature. Because believe me, there's plenty of time for it to get screwed up. And Burgum may just veto it anyhow. Then all would definitely be for naught.
And that wouldn't be a win— at all.
PLEASE LIKE & SHARE!
Sources: