I don't write much about national politics. But an exchange between North Dakota's lone Congressman, Kelly Armstrong, and holier-than-thou Socialist icon Alexandria Ocasio-Cortez (D – New York) yesterday is worth mentioning.
As you're aware, congressional Democrats are carrying out an impeachment inquiry behind closed doors. They want to oust President Trump. And they're looking for any angle they can to make it happen. Oddly enough, it appears that interviewing witnesses in secrecy is in accordance with House Rules— as explained by Judge Andrew Napolitano and Politifact. By the way, the rules were adopted by House Republicans in 2015 under then Speaker John Boehner (R – Ohio). But I digress.
In addition to depositions taking place in relation to the impeachment inquiry, congressional Democrats have also been holding simultaneous hearings on other issues. This makes it impossible for certain Republicans, who are permitted to be in the impeachment inquiry, to attend both— something Rep. Jim Jordan (R – Ohio) says they expressed concern about last week.
It just so happens that Rep. Kelly Armstrong is one of those allowed in the room for depositions. Yesterday, Democrats again held a simultaneous hearing, making it impossible for Armstrong to be in both places at once. You can see his Facebook post about it below.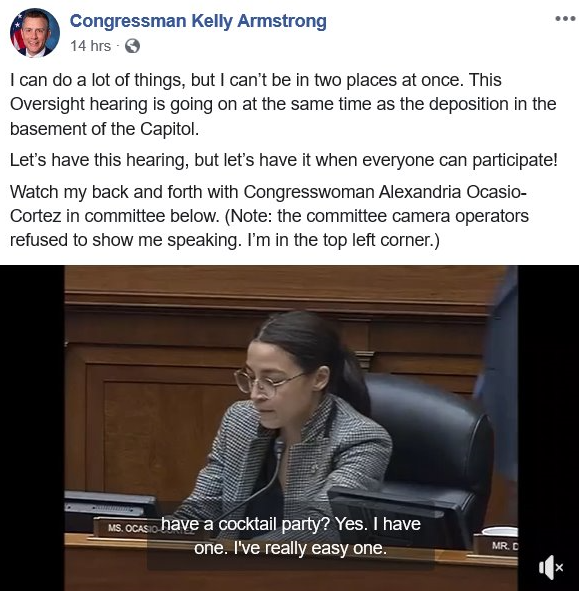 When Republicans were eager to adjourn their oversight hearing, Cortez questioned the reason for such a move, accused them of being disrespectful, and even made a snarky comment wondering whether there was a cocktail party to go to. And that's when Congressman Armstrong let loose.
I'll leave the exchange below. Rep. Jordan also jumps in. But the best part is at the conclusion of the clip, when Armstrong reminds Ocasio-Cortez that when the oversight hearing started there was only one Democrat in the room. It's pretty good. Give it a listen.
PLEASE LIKE & SHARE!
Sources:
https://www.thedailybeast.com/judge-napolitano-schools-fox-and-friends-on-impeachment-adam-schiff-just-following-the-rules-written-by-gop
https://www.politifact.com/punditfact/statements/2019/oct/28/andrew-napolitano/fox-news-analyst-correct-impeachment-inquiry-follo/
https://www.facebook.com/RepArmstrongND/videos/401523660802065/