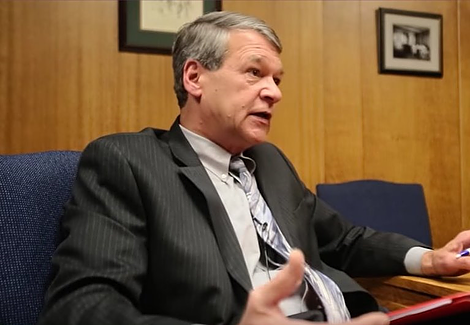 On April 4th of this year, Attorney General Wayne Stenehjem's office confirmed that it was investigating Minot resident Terpsichore "Tore" Maras-Lindeman for "alleged violations of the consumer fraud laws and charitable solicitation laws". Apparently the case between Maras-Lindeman and Stenehjem are the result of her efforts to organize "A Magic City Christmas" without properly registering with the state.
The Attorney General claims that:
"The charitable solicitation law and consumer fraud laws were enacted to protect members of the public. When anyone fails to comply with the reasonable requirements of these laws, it is my office's duty to investigate and take any necessary action to protect consumers."
According to the Minot Daily News, Maras-Lindeman's take on things is quite different:
"The plaintiff by their own admittance began the investigation without a victim or complaint… It seems the plaintiff doesn't have a legal valid reason to explain WHY this investigation was initiated that would align with fiscal guidelines in North Dakota using Tax Payer funds.

"This is an abuse of our legal system and a clear example of the plaintiff weaponizing their office for personal gain, politically motivated wherein under North Dakota statute, is a crime in itself… This meritless complaint is intended to be a vindictive action in impermissible retaliation for the defendant whistleblower actions regarding the Office of the North Dakota Attorney General dating back to the year 2010."
Parrell Grossman, director of the Consumer Protection Division in the Attorney General's Office, disputes Maras-Lindeman's claims:
"Her claims about retaliation are false, unsupported and actually quite ridiculous. She's attempting to obfuscate her illegal conduct by creating a false narrative."
But here's where it gets kinda odd. According to a June 1st court document, the Attorney General's office requested a gag order on Maras-Lindeman when it came to her internet usage. After setting a court date of "17th Day of August, 2018, at 11:00AM", it says:
"In addition, the court will consider the possible sanction of restricting Respondent's use of the internet until such time as Respondent complies with the court orders."
In political circles, it's apparently fairly well known that Maras-Lindeman is an outspoken critic of Attorney General Wayne Stenehjem in her social media posts.
Now, I admittedly am not familiar with the intricacies of this case. I have no idea whether Maras-Lindeman is guilty or if there's merit to her claims of retaliation by the Attorney General. What I do know is that it's probably not a good idea to ask a court to censor her ability to use the internet when she's claiming wrongdoing on your part. That just looks bad.
According to the information provided to me as a result of today's hearing, the judge in this case denied the Attorney General's request to restrict Maras-Lindeman's use of the internet.
We'll see about digging in and learning more about this case. In the meantime, Wayne Stenehjem may want to rethink censoring people's right to free speech. And if he somehow believes he's being slandered, then he should probably prove that as well.
Sources:
https://attorneygeneral.nd.gov/news/attorney-general-details-investigation-unlicensed-business-alleged-fraud-tore-maras-lindeman
http://www.minotdailynews.com/news/local-news/2018/08/woman-claims-retaliation-in-a-g-s-complaint/