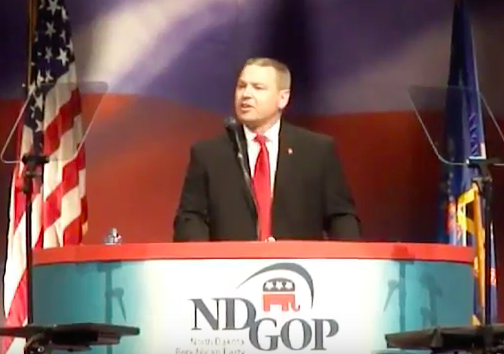 In North Dakota's current political climate, one of the first questions asked of those who announce their intention to run for national or statewide political office is, "Will you abide by the outcome of the convention?" The indication of course is that the candidate being asked may ignore their party's convention endorsement and go to a run-off in a primary election.
Such was the case with Congressman Kevin Cramer in 2012 when he announced early on in that U.S. House campaign that he would go straight to the primary– much to the chagrin of party faithful. Brian Kalk was the North Dakota Republican Party's endorsed candidate that year, but he lost the nomination to Cramer in the 2012 primary. Cramer went on to beat Democrat Pam Gulleson in the General Election.
A more recent example is that of Republican Governor Doug Burgum. While Attorney General Wayne Stenehjem won the party's convention endorsement in 2016, 2nd place finisher Rep. Rick Becker made it clear he wouldn't go to the primary. Burgum, however, had made it clear he was. And that's exactly what he did. The result was his stunning victory over Stenehjem for the nomination in the primary election and a cake walk to the Governor's Mansion over Democratic opponent Marvin Nelson in the 2016 General Election.
While these are just two examples, they are recent ones. And it certainly seems they've had an influence on North Dakota politics.
Yesterday, former NDGOP Chairman and state lawmaker Kelly Armstrong made his run at the U.S. House official. While Armstrong says he will abide by the outcome of the convention in April, speculation is that his main competition – State Senator Tom Campbell – will go on to the primary no matter what.
Situations like these cause some to wonder whether it's even worth it to attend a State Convention? It's a valid question. Conventions aren't cheap. Think of it… membership dues, delegate fees, fuel expenses, hotel costs, food, etc. The party faithful that attend conventions sacrifice a lot of time and money to do so. And that's not even mentioning the long days at the conventions themselves.
Is it worth it to go to a convention if a primary election can change the outcome of it anyhow? Does it hurt attendance to conventions by having primaries? Would eliminating primary elections be problematic for political parties?
I tend to believe there's still value to conventions. But I certainly understand those who don't want to go to the expense of attending one when they can simply cast their ballot in a primary at almost no expense.
What do you think? I'm interested in your thoughts.
Sources:
http://bismarcktribune.com/news/local/govt-and-politics/cramer-to-bypass-gop-convention/article_ea58b650-42b8-11e1-97a8-001871e3ce6c.html
https://www.youtube.com/watch?v=Okxn6YzV_J8
http://www.grandforksherald.com/news/government-and-politics/2176805-us-house-primary-cramer-beats-kalk-gop-nomination
https://ballotpedia.org/Kevin_Cramer
http://www.kfyrtv.com/home/headlines/Stenehjem-Wins-ND-GOP-Endorsement-for-Governor-374372971.html
https://www.nytimes.com/elections/results/north-dakota-governor-nelson-burgum
http://www.westfargopioneer.com/news/government-and-politics/4407735-dickinson-state-lawmaker-seeks-cramers-seat-scrappier-house