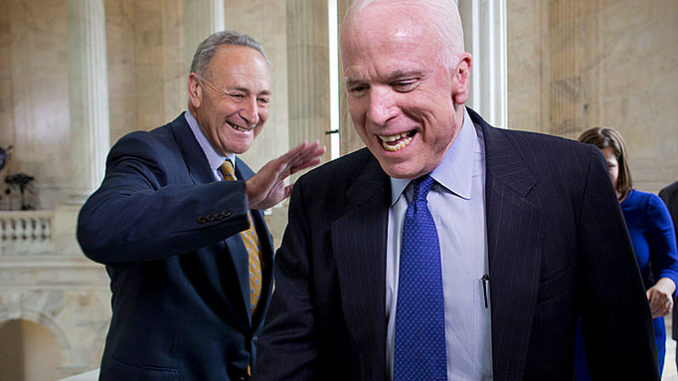 U.S. Senator John McCain (R – AZ) was recently diagnosed with brain cancer. A condition discovered as doctors performed surgery last week to remove a blood clot above his left eye. While I am not a fan of Senator McCain, his condition is not one I would ever wish upon him.
In one television report, it was said that the survival rate for McCain's type of cancer is just over 4%. And based off of his votes on the healthcare issue this week, it seems the diagnosis has given him the added courage to be what many of us knew him to be already… anything but a conservative Republican.
On Wednesday, McCain was one of six Republican Senators who voted against the same Obamacare repeal that they voted for in 2015– effectively sinking the bill. And early this morning, he unabashedly waltzed onto the Senate floor and cast a deciding vote to sink the "skinny repeal". All to the elation of Democrats. A few of whom couldn't control themselves as they broke into applause. (Warning: If you watch the video link, it may boil your blood.)
None of this should really surprise us though. This is exactly who John McCain is. When it comes to Conservative rankings, the Conservative Review's "Liberty Scorecard" gives him an atrocious 33%. In 2008 – when McCain was running for President – the Gun Owner's of America rated him an F- and called him "a liberal gun grabber".
To be honest, the list of examples showing John McCain being on the wrong side of issues is so extensive, I won't bother to cover it all here. But whether it was working with Senator Ted Kennedy on immigration, Russ Feingold on campaign finance reform, or working with Democrats to prevent drilling for oil in the Arctic National Wildlife Refuge (ANWR); McCain's history of sinking Republicans is fairly extensive.
An interesting side note to all of this is that Senator McCain voted against Obamacare repeal after he refused surgical services from the Veteran's Administration (VA) in favor of the Mayo Clinic. A hypocritical move for a man who has told other veterans they were "foolish" for wanting non-VA care.
As I said when I began– I wouldn't wish John McCain's medical condition on him or anybody else for that matter. But regardless of how unfortunate and sad that condition is, I don't believe it gives him immunity from the criticism that he is deserving of when it comes to his horrific votes on healthcare this week. Not only did he betray the American people, but he violated his Oath of Office in the process. But we shouldn't be surprised by that, should we?
Sources:
1. http://www.washingtonexaminer.com/john-mccain-to-start-cancer-treatment-monday-report/article/2630010
2. http://www.nationalreview.com/article/223366/conservative-case-against-mccain-kathryn-jean-lopez
3. https://www.gunowners.org/mcgungrab.htm
4. https://www.conservativereview.com/scorecard?chamber=senate&state=AZ&party=R
5 . http://www.businessinsider.com/john-mccain-health-care-vote-video-breakdown-2017-7
6 . https://theminutemanblog.com/single-post/2017/07/27/Republican-Traitors-Six-Senators-Go-Turncoat-on-Obamacare-Repeal
7. http://www.disabledveterans.org/2017/07/20/turncoat-john-mccain-refuses-free-va-surgery-for-brain-tumor/
8.