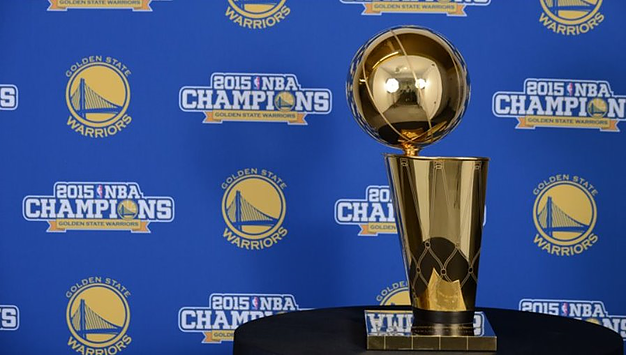 On Monday, the Golden State Warriors won their second NBA Championship in three years over the Cleveland Cavaliers. It was a revenge year of sorts as the Cavaliers upset the Warriors in the NBA Finals just a year ago. Nevertheless, it wasn't really a surprise. The Warriors were the favorites going into the season after acquiring superstar Kevin Durant through free agency in the off-season.
I'll be honest, I didn't watch the NBA Finals or the NBA Playoffs for that matter– not a single minute of them. That's an odd statement for me to even make after having been a basketball fan since grade school. I grew up an avid Chicago Bulls fan during the Michael Jordan years and their six NBA Championships. But I've just lost interest in the last couple seasons. It's just not what it used to be.
In addition to the general feeling of "it's not what it used to be", I think I may have figured out another one of the reasons for my newfound disinterest. Politics is a love of mine as well– no surprise there. But I just don't like mixing the two. I'm not exactly sure why. Perhaps it's because one can be an escape from the other. And with the controversial advent of a Donald Trump presidency, it seems the two are mixed far more often than they have been in the past. That's true of sports in general.
Having said that, some headlines I read today caught my attention. Allegedly the Warriors may be considering rejecting an invitation to come to the White House. I say allegedly because some reports claimed that the Warriors had "unanimously" decided to skip the visit to the White House. These reports were based off of the following Tweet by a reporter for CNBC, which has since been removed:
The Warriors have now issued the following statement:
"Today is about celebrating our championship. We have not received an invitation to the White House, but will make those decisions, when and if necessary."
The statement is really an odd denial, because it's not exactly a commitment one way or the other. And I will remind you that visiting the White House is basically an annual event for whomever wins the NBA Championship. In fact, the Warriors visited the White House and President Obama in 2015 when they won their first title.
But this one is apparently… well… different. Because it's… well… you know– Donald Trump. And multiple members of the Warriors' team have been critical of the President. Last November, Head Coach Steve Kerr said Trump was "ill-suited to be President". Team superstar Steph Curry referred to the President as an "ass". Teammate David West was not only critical of Trump, but his supporters as well.
I get it that Donald Trump is divisive. I get it that he says and Tweets stupid things. I get it that a lot of people disagree with his policies– especially the NBA culture. But what would rejecting an invitation accomplish, whether it be a single player or the entire team? I don't know that it accomplishes anything, except making them look like the very thing Steph Curry called the President not long ago.
I haven't been particularly fond of Trump at times myself. I definitely wasn't fond of President Obama. But part of life is learning how to live together in spite of our differences. Were I in a position to be invited to the White House by either Obama or Trump, I would have done it in spite of the many differences between us.
Will I lose sleep if any number of the Golden State Warriors reject the invitation to visit the White House? No. But before any of them make that decision, I hope they'll reflect on the direction the country is going in terms of how we treat each other. And once they reflect on that, I hope they will ask themselves if their decision will help bridge the chasm or widen it. Because oddly enough, I think to some degree this may be bigger than politics and sports.
Sources:
1. http://www.snopes.com/warriors-white-house-visit/
2. http://www.ajc.com/sports/warriors-haven-discussed-white-house-visit-but-curry-iguodala-don-want-attend/1vPBy1wAM1R21ylM28CEEK/