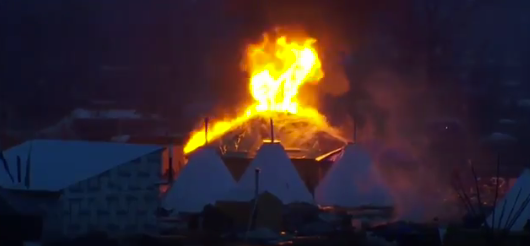 About 25-50 protesters are holding out in their NoDAPL camp, just one day past the deadline given by the Army Corps of Engineers. Yesterday, police arrested 10 protesters who refused to leave before the conditions on the ground convinced law enforcement it was better to wait for cooler weather. Ground conditions were mucky due to melting temperatures.
North Dakota Governor Doug Burgum says the remaining protesters now have their final opportunity to leave without being arrested. If yesterday's "worldwide" Facebook Live from Buzzfeed News was any indication, these holdouts aren't going anywhere unless they are forcefully removed.
A small contingent of about 20 protesters stood blocking a road to the encampment yesterday in a standoff with law enforcement. As law enforcement retreated, the protesters were confused. Their speculation ranged from a "tactical move" to answers to prayers.
By all indications, and providing the weather cooperates, the end to the current protest camp will come today. Either the protesters will move or be moved. Regardless, North Dakota will continue doing what it has all along… continue cleaning up a horrible and inconsiderate mess caused by thousands of people who claim to love the environment.