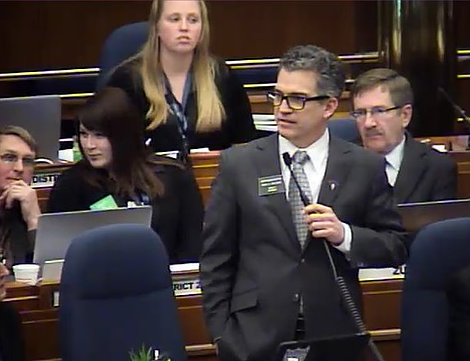 Last Friday the House Government & Veteran's Affairs Committee gave a 14-0 Do Not Pass recommendation to Rep. Rick Becker's (R – District 7) House Bill 1168. If passed, this bill would not allow public employees to "be reimbursed for expenses or be compensated by the public entity employing the individual, other than for personal leave taken, for time spent at or traveling to or from a session of the legislative assembly".
The exceptions to the bill would rest on the public employee being asked by the legislative assembly to testify or their being "requested to attend the meeting by the head of the state agency, department, or institution employing the individual to provide information on behalf of the agency, department, or institution."
The bill is straightforward to me. In a nutshell it places the same requirement on public employees that now rests on the shoulder's of the rest of us. If you want to be part of the process, testify at committee hearings, etc.; you pay your own way.
Just think of it. Your tax dollars could potentially go to reimburse or compensate a public employee who may testify in opposition to a bill you support.
Our system of government is supposed to favor the people, not the bureaucrats that we employ. Unfortunately, the Government & Veteran's Affairs Committee disagrees.
The bill will likely come up for a vote on the House floor this afternoon.